Listed below I have posted some pictures and tips. These tips are not a slam dunk, but they work for me, and its a work in progress. Each night I learn something new. Nothing is better than time on the water and dialing in your own skills and learning what works and what doesnt by actually doing it. Some people dont know where to start or just have not seen what the set up looks like, or what to use for bait, how the traps work, how to pull, or the basics. This is not an experts guide to catching lobster.
First, I set out all my traps and wind up the rope on the bouy and take out any tangles. I put the glow sticks in the plastic bottles, and get the traps ready before they even go in the boat.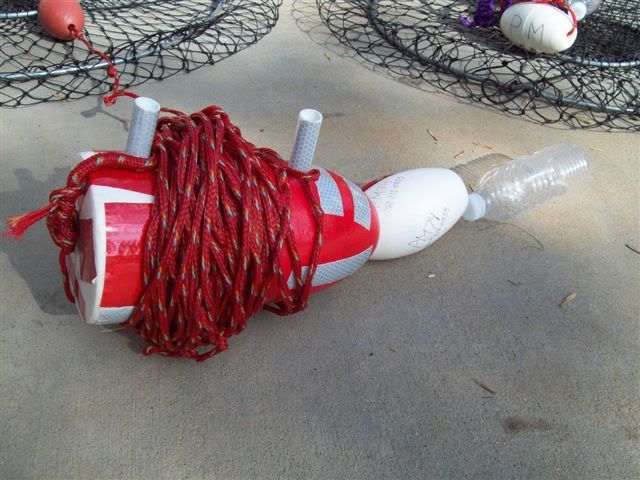 Next I stuff the cages 100% full of bait. I use big sardines left over from halibut fishing. Pack that cage tight so the sea lions cant take out your bait. I thought of tack welding a few nails pointing up off the cage so the sea lion pokes its nose and leaves it alone. I will do this tomorrow.
After you pack all the bait cages, and wind your bouys, you stack them in your boat. Im going out on a limb wit this one, but if i was to do it again, I would only get flat traps. I get more lobsters, about 5 to 1, over the eclipse, and they just stack better, are easier to pull, cheaper, and more low profile and stealth. They also dont get clogged with kelp as much. Eclipse style work fine, I just prefer flat.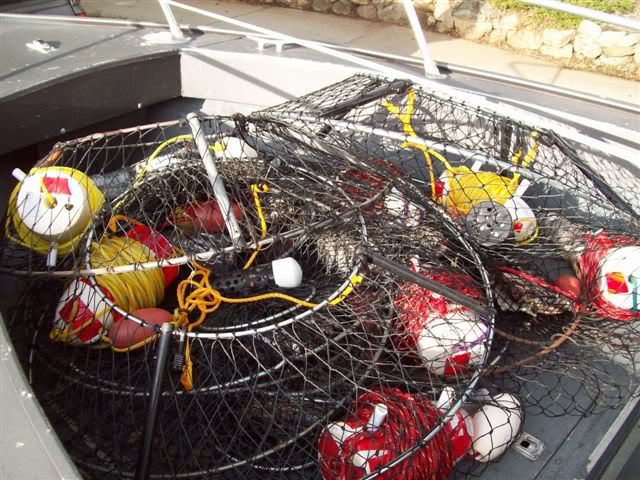 Finally, you drive in a straight line and deploy your traps like depth charges. Do it in line not for the lobsters, but for efficientcy and so you can better keep track of your string, and to get the timing down.
All my bouys are coated in reflective tape so when I shine the 2 million candle power light on the water, the bouys pop up like a radioactive orb on the surface. I can easily spot the bouys from over a mile away.
I like to drop the traps about 25 to 50 yards apart, sometimes up to 100 yards untill I find a good spot.
Lobsters can cruise around as fast as you can walk. When the tide is moving, they go a few miles per hour, like four or five miles per hour. Obviously they can squirt backward very fast, but they do not move about this way when looking for food.
Lobsters are usually like other fish in that they school up togather, and most times, they are in size classes. Many small ones togather, many big ones togather. At times I will get a huge on and a small one in the trap, but usually, they are with their own size.
Think of lobsters like ants in the grass. Most of the time you cant see them, but as soon and you put a popsicle down, they come out of nowhere and begin to all gobble up your bait. Then in time they form a line and army up and all walk the same way and organize themselves. Ive seen lobsters do this while diving. A few rouge bugs, near other bugs, then they want to go somewhere or eat something, and they all team up and organize and get in rank and file. This is usually when I get tons of lobsters. I think we got 31 the first outing, and they all came in bunches, so Im guessing that when Im landing over 20 a night, the army effect is occuring.
Here are two lobsters. One is a male. The male has smaller swimmerettes on the underside of the tail, and the female has larger ones. The swimmerettes on the females protect the eggs. I expect that in the next few outings, the females will have a white sperm package stuck to her undersides. It looks like a wad of gum. I chuck these back. I also chuck back the berried lobster. They are perfectly legal to keep, but I like to complete the circle of life and give some breeders back to the sea.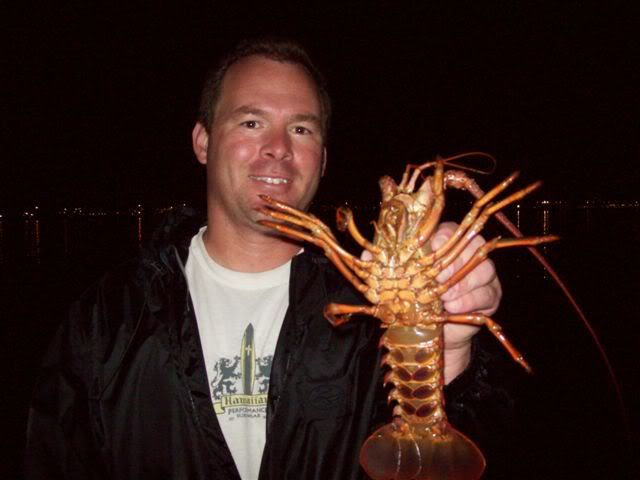 Male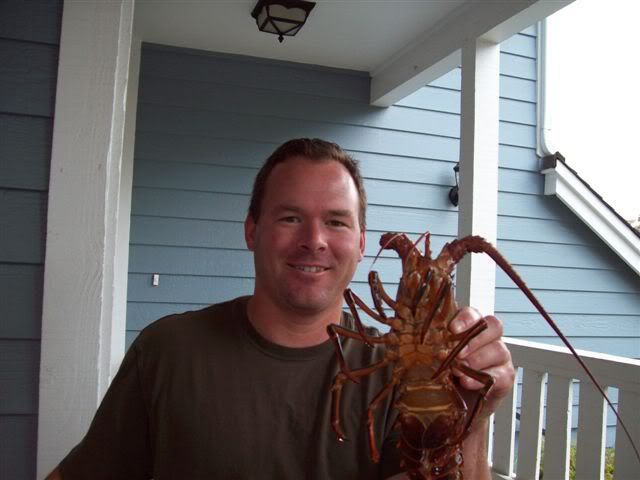 Female
You can keep lobsters alive overnight in a cooler of saltwater. Then the wife and kids can see them alive. Then either eat them that night, or freeze them.
I will post the lobster roll. The finished product..